Lent soup lunches have been organised by St Frances of Rome parish in Ross-on-Wye on the Friday lunchtimes through Lent with proceeds all going to support CAFOD.
A big thank you too to Jane Davies and fellow parishioners at at Belmont Abbey parish for organising a wonderful, tasty Soup Supper which also provided an opportunity to learn more about CAFOD's work around the world, in schools here in England and Wales, advocacy and campaigning.
The evening was came to an end with a Deacon Eddie leading us all in the Stations of the Cross 
We are always so grateful for your prayers and commitment to organising events like these to raise awareness of the plight of people like Mahinur – who is the part of the Lent Fast Day narrative this year.  Mahinur lives in Bangladesh.
You may have heard the short talk at Mass a few weeks ago, but please do read the fuller story about Mahinur's situation.
When Mahinur moved into her new home, she was elated.
She had worked for months digging foundations for a local road and had saved £300 – enough to buy a plot of land. 40 years old and a fisher-woman by trade, a first home on the edge of a river was the perfect location.
What Mahinur didn't know was that one year later, the river would run dry. The drought came suddenly.
By March 2018, not a drop of water remained. Mahinur left her boat and simply walked across the riverbed. The fish lay rotting around her.
One of our partner's met Mahinur, when the fish had been gone for four months.
"We had heavy rainfall and the river filled again overnight," Mahinur explains. "But there are still no fish."
She wraps her turquoise headscarf tighter round her face and balances the heavy wooden stave of the fishing net on her shoulder as she carries it to the riverbank.
Then, fully clothed, she climbs into the river.
For the next 20 minutes, she drags the net back and forth, occasionally reaching out a hand to steady herself against the current. Just her head protrudes from the water.
When she climbs out, she silently shakes out the contents of the net – one eel the size of a pencil and two fish no bigger than a penny.
"At least there's this!" she exclaims, as she finds a larger fish among the weeds.
The fish flips around as she drops it in the metal bowl. It's barely two mouthfuls.
Once she has changed into dry clothes, she borrows two plastic chairs from a neighbour and we sit a little way from her home.
I presume to protect her husband and son from hearing our conversation.
"It's terrible," she confesses.
"There should be fish in the river now – it's the right time of year – but there's nothing. I have no food and no money."
Mahinur tells me that she frequently forgoes meals so her 12-year-old son can eat.
"I'm worried that Rabiul will ask me for fish and I have nothing to give him," she explains, wrapping her arms around herself.
"When he demands something, it has to happen at once or he will start crying or break something. He'll shout, 'Give me this!' Sometimes he hits."
It's not bad behaviour that makes her son so impatient, but a learning disability he's had since birth.  The right side of his body is also weakened by a kind of partial paralysis. No one seems exactly sure why.
His father has a physical disability too, and walks with difficulty using crutches.
It explains why Mahinur takes responsibility for the household.
Since the fish went, Mahinur has been doing whatever jobs she can find in return for food.  She cooks and cleans for a teacher at the local school and takes another neighbour's cattle to graze.
Her eight remaining ducks that survived the drought occasionally lay eggs the family can eat.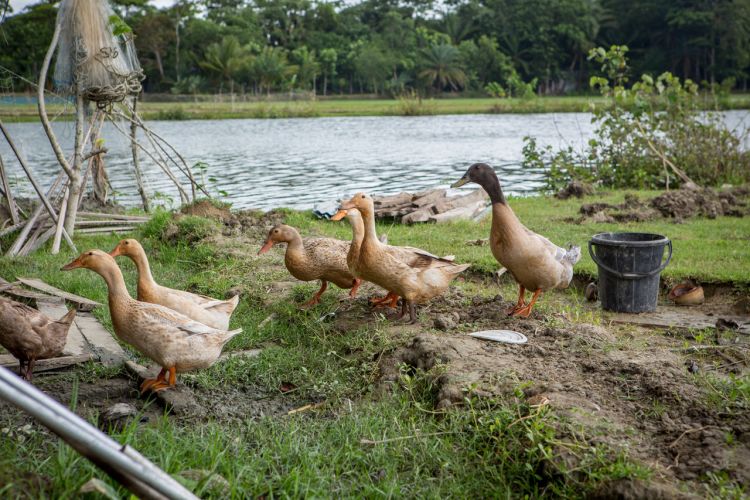 Other women in Mahinur's village also work, but it's not the norm and it's generally frowned upon.
"I'm the sole earner for the family," she confirms.
"My neighbours think I'm not a nice woman because I shouldn't be going out earning money. It's not what women do. I don't care what they think."
She shakes her head in defiance. But there's a sadness in her eyes that contradicts her words.
"I know there's no other way," she continues.
"I have to earn something to keep my family alive. Anybody can say anything about me, good or bad, but it won't hamper my efforts or affect me. I have to earn for my family, so that's what I do, happily."
The last day of Eid is a day of great celebration and enjoyment for Muslims." Mahinur explains, as her voice becomes louder, more urgent.
"Everyone made delicious food to share but our neighbours didn't invite me. They didn't invite me."
Her eyes begin to water and she mutters to herself and goes to arrange something in the house.
She later tells me her neighbours don't just disapprove of her working, but they have little compassion for disability either. Some are fearful it might be contagious or being nearby might bring bad luck.
With no medical care in the village, traditional herbalists and healers are often consulted for disabilities and mental health problems.
Rabiul has metal toggles and padlocks tied with a piece of string around his neck.
His dad says they stop him from falling over so often. But dark marks linger on Rabiul's cheekbone – a reminder of recent falls.
Earlier, I'd watched Rabiul cook an egg for his dad's breakfast.
His right arm hung awkwardly by his side, but he had no difficulties unscrewing the lid of a bottle of cooking oil with his left hand – steadying the bottle between his knees.
"He has to write with his left hand," his dad kept repeating to me. As though the social implications of this are harder to bear than Rabiul's frequent falls.
I ask Rabiul about himself – his age, his friends, his school. He wriggles in his seat, looks everywhere except at me, and answers with one or two words.
I ask instead if he knows any stories and he grins.
"There was a room and a man lived there," he begins. "One day, a tiger came into the room. The man caught the tiger and trapped him in the house and the tiger said, 'But I'm hungry.' The man said, 'If I set you free, you'll eat me.' The tiger said, 'Please, brother, I won't eat you. I'll just go outside.' The man said, 'We'll go to the wise tree and he'll tell us what to do.'"
Rabiul's story lasts at least five minutes. He talks fluidly, with expression, and his mum can't contain her laughter.
Rabiul is at his happiest when he's occupied telling a story, singing or swimming in the river – which he seems to do whenever his mum is asking him to do something he'd rather not.
"Rabiul likes to be outside most of the time," she tells me. "After school, he goes to the playground. He can't play but he likes to watch the other kids playing."
The riverside location is what's destroying their lives but it's also what keeps them from moving.
Mahinur explains that both her husband and son are comfortable in boats – they can move more easily than on land.
Life in a busy city, with pavements and steps, would be a struggle. That's before even considering the cost of rent.
Mahinur admits she has considered moving more than once.
She lived in the capital, Dhaka, from the age of 13 to 25, working in a clothes factory making shirts, dresses and tunics. Looking back, having an 8-5 job and a regular salary of £4 per month was a good life.
Nevertheless, she's committed to her riverside home.
She worked hard for this plot, doing what's considered a man's job – digging foundations for the local road, and she's still enjoying the freedom of having her own space.
Previously, they lived in someone else's house and helped with the household chores. It's a common scenario in this area of Bangladesh for the poorest families. Like a live-in maid, but for the whole family.
She's still ecstatic they were able to move.
"I like everything around me," she exclaims, pointing out the river, the trees, and the open fields. "There's a lot of happiness in our home."
We chat some more about the river and her husband explains he's been living in this community for 20 years but has never seen a drought that bad and has never seen the river dry up.
Usually, it's flooding they need to keep an eye on.
Their new home is precariously placed on a sharp bend in the river. It's just two miles from the coast, so at high tide during the rainy season, the river water comes right up to their doorstep.
They built their home up on an earth platform to cope with the floods but I can't help but wonder if their house will survive the next cyclone.
"Year after year, the weather has been changing," explains Jamal Hosen, a local agricultural expert.
"When I was a young boy, my experience was that we had six seasons. Different, distinct seasons. Now we can't differentiate. In winter, we have some rain. In the summer, it can be cold."
Jamal is part of the Caritas aid network, which is known as CAFOD in England and Wales.
He's been working with families like Mahinur's for nearly a decade – helping them find ways to cope with the changes in the weather.
He comes to meet me at Mahinur's home and explains that cyclones, floods and droughts are all becoming more common and more destructive.
Now, it's likely that every three years a severe cyclone will hit and each year a quarter of the country will flood.
In this community, so close to the Bay of Bengal, when the rivers flood, the fields fill with salt.
"It lowers crop production," Jamal explains.
"Livestock drink the saline water and they get ill. It upsets their stomachs. We see increased diseases in people, too. Sometimes people have itchy skin or diarrhoea."
In Mahinur's village, people now have to wait for four months after each rainy season for the soil to regain its fertility.
It's precious time they can't afford to lose.
To help local farmers, Jamal and his colleagues have been providing saline-resistant rice seeds and vegetable seeds.
The varieties are specially-designed to withstand the salty conditions and Jamal explains that the vegetable seeds are even more likely to thrive if they're planted up on a raised bed, away from potential floods.
It's these kinds of tips that are helping people survive.
For families like Mahinur's who don't own any land for growing crops, Jamal suggests rearing livestock could lead to a reliable income. Or learning a trade that isn't reliant on the weather –something like tailoring or mechanics.
Once trained, a grant could help families with very little income to set themselves up with their own sewing machine or repair tools.
It chimes with the advice of Hartwig Schafer, World Bank Vice President for Southern Asia, who warns that over the coming decades the warming weather is not just going to affect coastal Bangladesh, but the inland areas too.
He recommends: "To deal with climate change, the country needs to focus on creating jobs outside the agriculture sector."
Jamal and his colleagues have already trained up 16 mechanics and 24 tailors in other communities.
They're desirable skills and can earn as much as a primary school teacher.
Jamal is a regular visitor to Mahinur's village and has known the family for a few months.
So far, there hasn't been enough money to help Mahinur but Jamal keeps visiting regardless. Taking time to pray together and talk through their problems.
He's confident that with a bit of support, the family could see real change.
I realise Mahinur has talked very little about the future. Perhaps because it's so uncertain.
She hopes her son might get better at maths and calculations, and could one day get a job doing the accounts for a shop.
But she confesses she finds it hard to imagine.
When I ask her about her own future, she takes a moment to think, then replies:
"I wish I could work to earn more money and feed myself properly and die peacefully. That is all."
This Lent, your gifts will give vital support to the communities we work with around the world.
What your donations can buy:
12 Ducks
£32 can provide 12 ducks that are hardy to local diseases
A trade for life
£52 can teach a trade for life, helping people become resilient to climate change
Protected pond
£167 can build a protected pond full of fish
Please donate to our Lent Appeal 2019 to help families suffering from hunger and the impact of climate change.